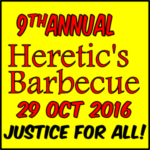 The Heretic's Barbecue is just a week away!
Are you ready?
CVAAS has been working hard to prepare for the Heretic's Barbecue. The venue is locked in, we're doing our final sound checks, the caterer is standing by.
Have you done your part?
Haven't you wanted to go to one of the Secular or Skeptical conventions, but couldn't because it was hours away by car or even a few states away?
Here's a secular and skeptical mini-con, right in your own backyard!

So you know about the food, and about our speakers – but did you know that this is a family friendly event? There will be a pumpkin decorating contest, we have a "Cornhole" or bean bag toss setup, plus horseshoes. Also the Moravia ship is in port on the children's playground – this is a great place to be a ship captain, or pirate!


More information:
CVAAS will be selling entry tickets at the door ($19 for adults, $5 for children 12 and under). We do encourage you to purchase your tickets online.
There are still tables available for hosting – if your organization wants to promote itself, or if you would like to advertise your goods to a secular community, you can still do so by purchasing a table. Your purchase price also gives you one ticket for entry.
It's going to be a great day! Come and be a part of it!